How to Use This Site
The Life and Times of Florence Kelley in Chicago, 1891-1899 is both a
web site
and document repository (
archive
). Three of the web site's sections -
Florence Kelley
,
Historical Context
and
Legal Context
- provide a lens with which to examine the documents in the archive:
Florence Kelley
Leign Bienen, Project Director, provides a series of vignettes of Florence Kelley's 9 years in Chicago. These provide extensive linkage to related material in the archive.
Historical Context
Strategic events and personalities in Chicago of the 1880's and 1890's interacted to produce a setting ripe for social change.
Legal Context
Biographies of mayors, judges, alderman (and a governor) give insight into the key legal and political figures of the day. Professor Bienen also describes 3 landmark court cases, Florence Kelley's factory inspection reports, and
The Law As Storyteller
.
Archives
Search the approximately 50,000 pages in the Archives using the
Search All Documents
tool; or search by
Document Type
- e.g. government reports, factory inspection reports, newspaper articles, periodical articles, books, dissertations or correspondence.
Note To Geneologists
The Factory Inspection Reports and other documents here include the names and addresses of companies and many references to individuals.
Viewing Documents
The document browser window includes the document, a page-chapter indicator, and a tool set.

The page-chapter indicator shows chapters (if the document has distinct chapters), a page dial (showing all the pages within the chapter or document), and standard forward and backward buttons:

Use the Close button (pper-right) to exit the viewing window when finished.

The toolset - always positioned lower-right - allows you to manipulate the image. By default it is set as a zoom in tool, but you can also zoom out, rotate clockwise, rotate counter-clockwise, rotate randomly, or move to different parts of the page:




Image Library
A library of several hundred photos is accessed with each page view. Some pages -e.g.
Lives of Children
- have one or more specific images directly associated with them; others - e.g.
Johnny Powers
- select the image randomly. To view the image(s) click on the link below the thumbnail image; if more than one image is available in that particular gallery, use the forward button to scroll through them. Use the
Close
button to exit the viewing window when finished.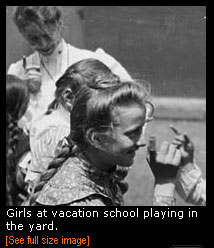 Navigation
Each of the web site pages can be accessed using the main navigation. The breadcrumb lets you know where you are in the hierarchy of pages.